Introducing VEOS™ Next Generation Dermatoscopes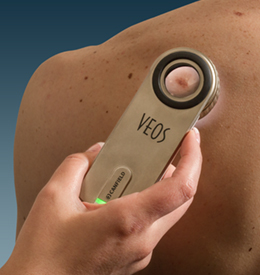 The innovative new VEOS dermatoscopes from Canfield combine ease of use with the power of mobile imaging. VEOS HD1 and HD2 deliver crisp, bright visualization in a compact, ergonomic design with a choice of lighting options. VEOS DS3 provides a complete digital dermoscopy solution with a swing away lens for overview photos, touch screen controls and dual mode lighting.
VEOS was developed in response to the growing interest in dermoscopy as a critical adjunct to clinical dermatology. "As the leading supplier of advanced skin imaging systems, this is a natural extension of our expertise," stated company president Doug Canfield. Combining proven science with technical innovation, VEOS dermatoscopes were designed to assure quality, durability and versatility that is second to none. And with a decidedly 21st century sensibility, they offer virtually seamless integration with the popular iOS mobile device platform.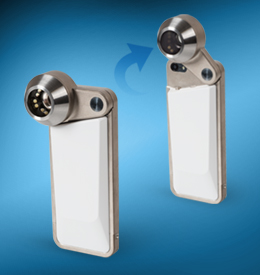 Introduced at the AAD Annual Meeting, response to the VEOS has been enthusiastic. Veteran dermoscopists and beginners alike are impressed with the bright, clear viewing and comfortable feel. And with a comprehensive range of models and accessories, there is a VEOS dermatoscope for every practice and application. Whether for a quick visual examination, or uploading complete photographic records to a patient database, nothing outperforms a VEOS.
VEOS dermatoscopes are available from Canfield distributors worldwide. For more information or to purchase a VEOS dermatoscope, visit VEOS.com on the web.