Effective Photography in Medical Research and Practice
As we enter the Maryland Laser, Skin, and Vein Institute (MDLSV), it appears to be the quintessential medical aesthetic practice. Patients relax in comfortable seating, soothed by soft lighting and the rippling sound of an elegant water sculpture. But just beyond the reception desk is a beehive of activity; a sprawling complex of hallways and treatment rooms, equipped with medical devices of every description. With four dermatologists and a staff of 40, this practice can treat 150 patients on a busy day. And with up to six Phase III clinical trials running at any given time, MDLSV is one of the world's leading dermatological study sites.
At the eye of this storm is Dr. Robert Weiss, whose calm demeanor and measured speech present an unexpected contrast to the activity that surrounds him. A past president of the American Society of Dermatologic Surgery and the author of over 100 articles and a dozen textbooks, Dr. Weiss is one of the world's most respected and influential dermatologists. He is also a strong proponent for the effective use of photography in both clinical practice and research. And that is what brings us to his office just north of Baltimore on this chilly winter day.
It was in his early clinical studies that Dr. Weiss came to appreciate the value that photography brings to dermatologic medicine. "Back in the 90's, we were first looking at Intense Pulsed Light. The protocols for this type of clinical trial had not yet been formalized, and we needed a way to document our results. That's when we started using Canfield's clinical imaging products. They offered the only way to get reproducible images so you could truly see the results of your settings on the IPL device." Today, of course, the use of photography in clinical studies is mainstream. "We are currently doing trials on a number of injectables and some new applications of fillers, and we've just completed one on cellulite. In each of these a Canfield photography system was vital in documenting the results."
Beyond the clinical trials, photography plays an important role in the numerous cosmetic treatments that his practice performs. Here as well, there is a critical need to objectively analyze, and visualize, the results of various treatments. "If you are doing cosmetic work, and you want to be better at it, then photography is essential." Not surprisingly, at MDLSV you will find Canfield photography systems in almost every configuration imaginable; from the TwinFlash® camera attachment to IntelliStudio® full body systems to VECTRA® 3D.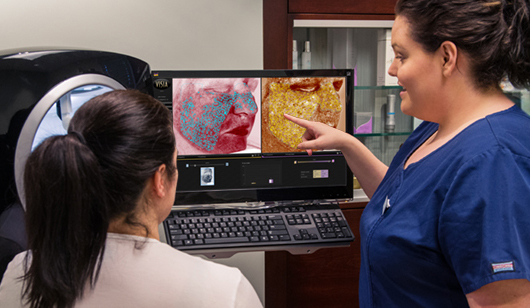 A particularly useful imaging adjunct to the cosmetic side of his practice is the VISIA® Complexion Analysis System. The VISIA is strategically placed in the aesthetician's room, the first stop on every patient's visit. "Even if a patient comes in for a mole examination, they will often ask what they can do to make their skin look better. We then offer them a complimentary VISIA consult, and they can see the analysis for sun damage, redness, pigmentation, and wrinkles. The usual result is that we start them with a topical, but they will frequently then book other treatments with devices such as laser or IPL."
Canfield photography systems also help Dr. Weiss keep a handle on his business. "We often use photographs to show patients how much improvement there has actually been, since they don't always see it" he explains. "We treated one patient's leg veins, and she came back to complain that the treatment had left a number of white spots. So we looked at the pre-treatment photographs, and it turns out those were idiopathic guttate hypomelanosis, or 'reverse freckles', and they had been there to begin with. I didn't remember seeing them, and the patient had been focused on the spider veins. When we took those away, all of a sudden you could see what was left. This had the potential of becoming a very difficult situation, conceivably a lawsuit, but our photographic documentation settled the issue before it could get to that point."
More recently, Dr. Weiss has adopted Canfield's digital dermoscopy solution. Using the specially designed VEOS™ app, this system combines the digital imaging and communications power of an iPhone® with the high quality lighting and optics of a Canfield dermatoscope. "For me this is extremely helpful, not only diagnostically, but because I now have the image on the iPhone and can show the patient the lesion. I can then enlarge it, and they can see, for example, how irregular the mole is, and understand why I want to biopsy it. Then we can compare the image of their lesions to photographs of malignancies, and I can explain why it's highly suspicious. And the patients really get it."
Looking to the future, Dr. Weiss sees a growing need for this type of mobile imaging technology in medical photography systems. As an example, he notes that with a predicted shortage of physicians in many specialties, the use of such smartphone-based devices in telemedicine could extend the number of patients a dermatologist can treat. This convergence of diagnostics, patient education, and wireless communication will play an increasing role in changing the doctor-patient relationship in the coming years. And at the leading edge of this change, you will find physicians like Dr. Weiss.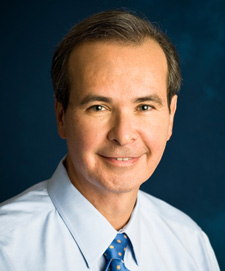 Robert Weiss, M.D., F.A.A.D., F.A.C.Ph, is a Board Certified dermatologist practicing in Hunt Valley, MD. After graduating from Columbia University in New York, he completed his medical education and residency in dermatology at the Johns Hopkins University School of Medicine. Following that, he completed additional fellowship training in dermatologic research at the National Institutes of Health. He served as President of the American Society of Dermatologic Surgery (ASDS) from 2008 - 2009, and is currently Vice President of the American Society for Lasers in Medicine and Surgery. He founded the Maryland Laser, Skin, and Vein Institute in 1985.