VEOS® SLR Dermoscopic Camera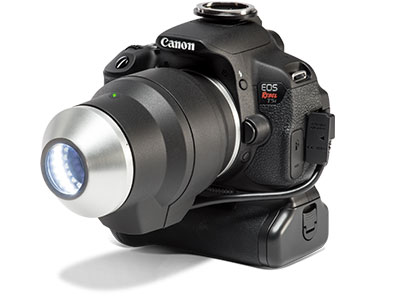 The new VEOS SLR provides clinicians with advanced technology dermoscopic image capture in a compact, easy to use system. Using a unique LED flash based illumination system, the VEOS SLR can sequentially capture cross-polarized and non-polarized images in either contact or non-contact modes. The result is remarkably high quality and consistent dermoscopic and macro images of lesions and hair.
An articulating 3" LCD touch screen display allows comfortable camera positioning when imaging any part of the anatomy. An array of 36 LEDs provides a bright video preview and are then pulsed to flash intensely for the capture. The fixed 22mm field of view and 18 megapixel resolution ensure sharp details and excellent clinical information.
VEOS SLR is a complete calibrated solution integrated with a high quality Canon SLR. It offers live preview and tethered capture directly into the patient chart with Mirror medical imaging software.