VECTRA® Now with 360° Body Imaging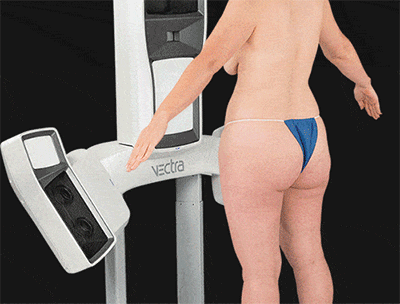 Canfield has introduced a ground-breaking capability for VECTRA face and body systems: 360° body imaging in high resolution 3D. With this new feature, a front and back view of the patient are automatically stitched together into a single, seamless wraparound image, giving the physician and patient an unprecedented understanding of the structural and aesthetic appearance of a patient's body.
Consultations about the back side of the anatomy can be difficult and often require the use of multiple mirrors or flat, 2D pictures. Now, with VECRA 360° body imaging, the patients can see all of the shapes, curves and folds on their bodies, as well as the proportional impact of various procedures. All of the simulation tools in VECTRA's Body Sculptor® software module can now be used on a 360° image to view body contouring procedures such as abdominoplasty, liposuction and buttock augmentation. These can be used singly or in combination with breast augmentation and mastopexy tools in the Breast Sculptor® module.
VECTRA 360° body imaging is now a standard feature, along with a number of other enhancements, in software Version 5.7. See more information here. This version is included with all new systems and is provided as a free upgrade to customers with current Canfield Care™ Support & Upgrade agreements.