Canfield Offers a Complete Line of Consultation Apps for iPad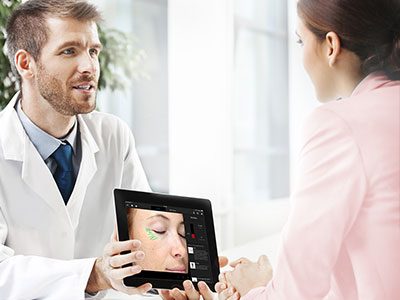 Canfield's new consultation apps for the iPad® combine powerful image based patient communications with the convenience of a tablet. You can now access your complete database of patient images and data from anywhere in the facility with our most compelling consultation tools literally at your fingertips. Apps are now available for Canfield's VISIA® Complexion Analysis System, Reveal® Facial Imager and Mirror® medical imaging software. Each employs a graphical interface and consultation tool set that will be immediately familiar to users of the desktop application.
VISIA and Reveal apps display full featured consultation screens of client sessions, including single feature view, side-by-side comparisons, overviews and product recommendations. The Mirror app offers both 2D and 3D image viewing, on-screen white boarding, before-and-after comparisons and direct image capture with the iPad's built in camera. And every app supports direct upload to Canfield's ViewMyConsult® patient portal. A single iPad app license allows an unlimited number tablets to access the practice databases.