Now in 3D: Clinical Imaging at Long Island Plastic Surgical Group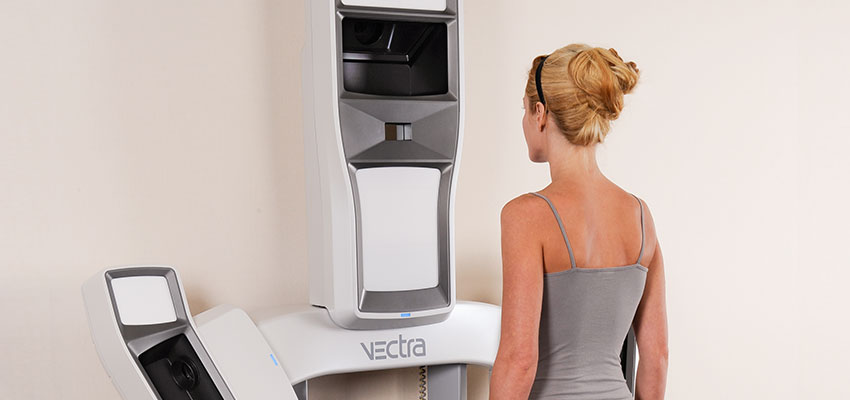 With some final instructions to an associate in the hallway, Senior Surgeon Vincent DiGregorio, MD, FACS stepped through the door of his office at Long Island Plastic Surgical Group (LIPSG) in Garden City, NY. Settling into the chair behind his desk, he peeled the surgical mask from his neck and turned his attention to his guests. An anatomically correct model of a human skull peered at us over his left shoulder. Half of the skull was bare to the bone while musculature and blood vessels clung to the other side. "That's Handsome Harry" he explains with a smile. "So, what can I do for you today?"
We were there to get an inside look at the oldest and largest private academic plastic surgery practice in the United States. LIPSG was founded in 1948 by two surgeons who, after serving in World War II, set up shop in Hempstead, NY, to apply their experience to the newly emerging field of plastic surgery. Today LIPSG is comprised of 17 plastic surgeons, with over 200 years of combined experience, and is spread out over 7 locations in the New York metropolitan area. A unique residency program, initiated in 1954, has trained over 120 residents in plastic surgery.
"The residency program is one of the foundations of our practice, and we are the only free standing academic practice in the nation," states Dr. DiGregorio. "We do basic and advanced reconstructive, micro vascular reconstructive and aesthetic surgery. There is a depth and breadth of clinical experience and expertise here which is comparable to, or exceeds, that found in university settings." The scale of the practice is equally impressive. Over half a million patients have been treated by the surgeons at LIPSG.
As might be expected at a practice with this size and sophistication, clinical photography plays an important role. LIPSG started using Canfield's Mirror® medical imaging software in 1995, and today it remains the backbone of their digital imaging process. Over the years, Mirror's robust, HIPAA compliant database and extensive visual communication tools have proven invaluable in supporting patient consultations, research projects and professional presentations. As new clinical photography systems were added, it allowed them to maintain all patient imaging records in a central location, seamlessly integrated with their practice management software.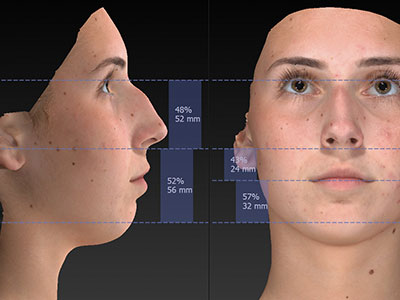 By 2009 LIPSG had become interested in the possibilities offered by three dimensional imaging and aesthetic simulation. Canfield had just released the VECTRA® X3 face and body system with Sculptor simulation software, and LIPSG ordered one of the very first systems for their Garden City flagship office. It was quickly embraced by the surgical staff, finding a wide range of uses in aesthetics, research and academics. Today, with the latest generation of software, it has become a key element in their patient consultations.
"The goal of a consultation is for the patients and physicians to agree to the aesthetic goals," explains Dr. DiGregorio. "This is very hard to do verbally. However, VECTRA has allowed us to speak the same visual language. Now we can get a clear understanding of what the patient's desires are, and at the same time, the patient can see what to expect." By securing mutual agreement to a goal, the surgeons at LIPSG make an important step towards patient satisfaction with the results.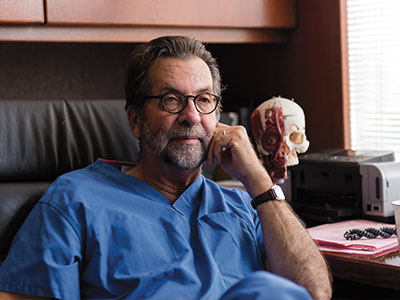 "Let me give you an example where this is particularly helpful," Dr. DiGregorio continues. "Frequently patients will come in asking for rhinoplasty, but I know what we want to achieve is facial harmony and balance. In order to achieve that, they might need a chin augmentation. But when we suggest that, it's like throwing them a curve ball. It was not anticipated and they are not prepared to deal with it. By using VECTRA 3D simulation, I can show them how the chin augmentation represents only 5% of the effort, but 50% of the result. This would be very difficult for the patient to understand without VECTRA imaging."
Down the hall we are ushered into the office of Kaveh Alizadeh, MD, MSc, FACS, President of Long Island Plastic Surgical Group. An impressive array of framed certificates representing his professional achievements covers the wall behind him. Dr. Alizadeh, who also directs the residency program's Clinical Research Division, offers additional perspectives on 3D imaging at LIPSG.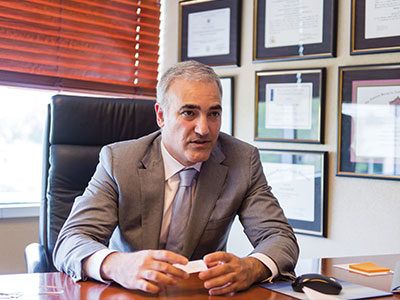 "Our initial interest was from a patient communications standpoint. But then we wanted to see if we could address some questions that are frequently brought up in the context of our residency program. For example, when you use implants, are you actually able to cause elevation of the nipple-areola complex? Are you able to create a lift effect? Until we started using VECTRA, we were not able to study this in a formal way. Now we have our residents looking at this question, and VECTRA's measurement tools give us an objective way to evaluate it."
Cosmetic procedures, particularly breast and facial surgery, are popular procedures performed at LIPSG. And for that reason, Dr. Alizadeh sees the VECTRA face and body solution as a perfect fit to their practice. "Anytime the procedure involves multiple tissue planes, where any one of them could affect the neighboring tissue, 3D becomes relevant. It allows us to have a conversation with the patient that is unique to their situation." So much, in fact, that patients from the satellite offices frequently travel to Garden City for a VECTRA 3D imaging session. As if on cue, there is a knock on the door and a nurse sticks her head inside. "Your VECTRA patient is here, Dr. Alizadeh," she announces. "There you go," he says with a smile.
While LIPSG installed their VECTRA system over three years ago, their Canfield Service Contract provides them with regular software upgrades. As a result, their 3 year old VECTRA with Software Version 5.0 is the virtual equal of new systems shipped today. Additional benefits include concierge-level technical support, end-to-end warranty and recurrent staff training. Participating practices are also represented on Canfield's consumer facing website, SculptMyDream.com, where prospective patients can "test drive" VECTRA 3D simulation and find a practice in their area that provides the service.
Driven by Canfield's product development philosophy, VECTRA's functionality has been continuously refined and enhanced to meet the specialized needs of the clinical user. Today's VECTRA features a simple but powerful user interface that is remarkably easy to master, and all of the surgeons do their own simulations with the patient in the consultation room. "This is an opportunity to interact and bond with the patient," offers Dr. DiGregorio, "plus, it's a lot of fun."