Skin Cancer Awareness Month – Enhance Screenings Worldwide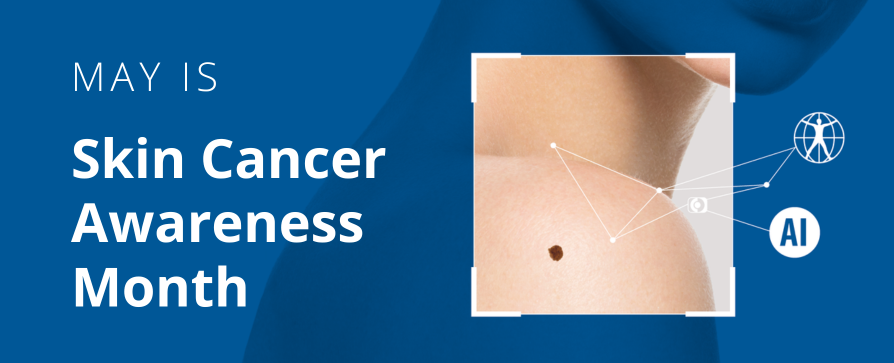 May is Skin Cancer Awareness Month, a time dedicated to spreading awareness, encouraging regular screenings, and supporting ongoing research into skin conditions caused by sun damage. Canfield Scientific's 3D whole-body imaging solution VECTRA® WB360 has become synonymous with medical innovation and research in the field of dermatology and continues to help further research and enhance screening consultations worldwide.
Raising Awareness and Motivating Regular Skin Screenings
Overexposure to ultraviolet (UV) radiation from the sun is the primary cause of Skin Cancer. Prolonged UV rays can damage skin cells, and that damage can lead to premature skin aging, skin texture changes, and potentially skin cancer[i]. Skin cancer is the most common cancer in the United States; however, it is also the most preventable[ii]. It is important to motivate patients to add sun protection measures to their daily routines and prioritize their recommended annual screenings. At screenings, Dermatologists will be able to monitor skin changes over time and provide crucial early diagnoses. With VECTRA WB360, patients can get their entire body scanned quickly and efficiently. The system captures patient images using 46 stereo vision pods with cross-polarized and non-polarized lighting, generating a single 3D image of the entire body. Canfield's DermaGraphix® software uses the 3D images for pigmented lesion and rash surveillance.
Continuing Research
Skin Cancer is a global concern, and in hospitals, research centers, and clinics all around the world, clinicians and researchers are working together to improve screenings and promote skin safety. Utilizing VECTRA WB360, The Australian Centre of Excellence in Melanoma Imaging and Diagnosis (ACEMID) initiative is bringing together researchers from three prominent universities in Australia to collect images and develop advanced algorithms to aide melanoma detection to combat the country's high rate of melanoma. Memorial Sloan Kettering Cancer Center in New York also utilizes whole-body 3D imaging to monitor suspicious lesions that require closer examination. There are many more facilities worldwide that are collaborating to increase awareness, motivate regular screenings, and support ongoing research efforts to minimize Skin Cancer. This month, and every month, let us prioritize skin health.
To learn more about Skin Cancer, click here.
To learn more about VECTRA® WB360, click here.
_____________________________________________________________________________________________________________________
[i] Centers for Disease Control and Prevention. (2023, April 18). What is skin cancer?. Centers for Disease Control and Prevention. https://www.cdc.gov/cancer/skin/basic_info/what-is-skin-cancer.htm
[ii] Skin Cancer Awareness Month: How to Reduce Your Risk. American Institute for Cancer Research. (2021, May 1). https://www.aicr.org/resources/blog/skin-cancer-awareness-month/