This Healthy Aging Month, Educate and Motivate with Canfield's VISIA® Skin Analysis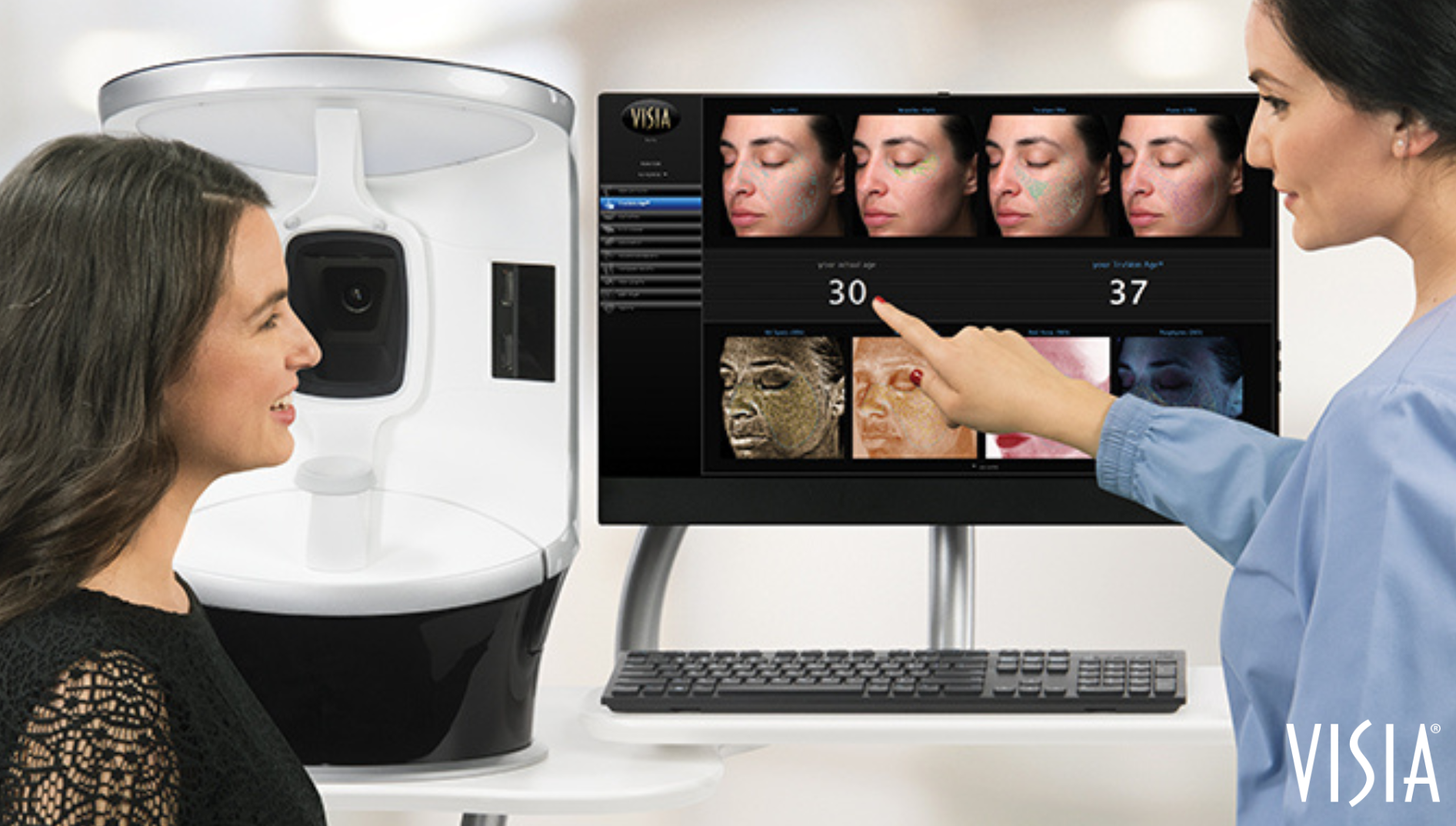 September is Healthy Aging Month, a time dedicated to highlighting the importance of prioritizing well-being as we grow older. Aging is natural, and with the right care and attention, your clients can age gracefully while maintaining their health and vitality. One essential aspect of healthy aging often overlooked is skin health. It is important to understand and educate clients on their current skin condition and age. This is why Canfield's advanced VISIA Skin Analysis plays such an important role in consultations.
The Aging Skin Dilemma
Aging gracefully is not just about looking good; it is also about your clients feeling their best and preserving their health. One of the most visible signs of aging is changes of the skin. Over time, skin loses its elasticity, becomes thinner, and develops wrinkles and age spots. Environmental factors like sun exposure, pollution, and lifestyle choices can accelerate these changes.
VISIA Skin Analysis: A Revolutionary Tool
Developed by Canfield Scientific, VISIA is a best-in-class imaging system that provides an in-depth analysis which brings more objectivity and helps clients understand their journey as they go through treatments. As the most trusted and widely known skin analysis system worldwide, VISIA has revolutionized consultations by expanding the understanding of surface and subsurface skin conditions. As well as streamlining how client-focused providers can address skin health through personalized treatment plans.
Here's how VISIA Skin Analysis works:
Standardization: VISIA's multi-point positioning system and live image overlay make it easy to capture perfectly registered images every time. VISIA's unique capture module that rotates around the patient's face easily captures left, right and frontal facial views with exacting consistency.
8 Guiding Metrics: The system captures and measures eight key features of the skin including: Spots, Wrinkles, Texture, Pores, UV Spots, RBX® Brown, RBX Red, and UV Porphyrins. This comprehensive analysis helps guide the selection of skin care products and treatment options.
TruSkin Age®: VISIA uses the world's largest skin feature database to grade each metric of your client's skin relative to others of the same age and skin type which determines the client's overall skin condition and age. This allows for a more educational and engaging consultation.
Injectables Simulation: The injectables simulation may be applied to targeted areas of the face to simulate treatments.
Advanced Aging Simulation: Simulate how your client might appear from their current age to 80 years old.
ViewMyConsult® Integration: Clients stay connected after the consultation as they consider the possibilities of aesthetic treatments. By accessing a secure, password-protected web portal, clients can view their photographs, treatment recommendations, and progress of treatments in the privacy of their own home.
The Benefits of VISIA Skin Analysis for Healthy Aging
Meaningful Comparisons: Compare results side by side for any combination of views, features or time points, including graphs and numerical data. Motivate clients to stay committed to their treatment goals by showing their before and after visually and quantitatively.
Prevention and Early Intervention: VISIA can identify skin issues before they become visibly apparent. This early detection allows for proactive measures to be made to prevent or mitigate skin problems, ultimately slowing down the aging process.
Quantitative Analysis: Unlike the subjective assessments of our skin's appearance and health, VISIA Skin Analysis provides objective data that quantifies areas of concern. This eliminates the guesswork and ensures informed decisions are being made.
Personalized Treatment Plans: Canfield's Industry Brand Library is the essential resource to provide each client with clear, targeted recommendations, personalized for their plan.
As we embrace Healthy Aging Month, let's remember that ageless beauty is not about chasing unrealistic standards but about embracing the natural process of aging with grace and vitality. VISIA Skin Analysis is a powerful tool that empowers both you and your client to make informed choices and preserve and enhance their skin's health as they age. By combining healthy aging practices with the precision of VISIA, your clients can enjoy a lifetime of radiant skin and well-being, and you will be able to grow your business.