Dr. Sherina Balaratnam discusses with Francesca Ogiermann-White why Canfield's VISIA® is an essential part of all her consultations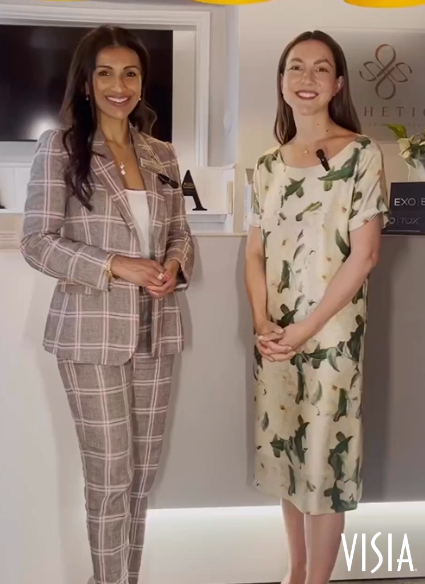 Recently, Francesca Ogiermann-White and Dr. Sherina Balaratnam discussed why Canfield's VISIA Skin Analysis was Dr. Balaratnam's first investment for her S-Thetics Clinic: "My goal here at the clinic is to generate patient results, and it is results that we can see, feel, correct, measure, and celebrate…I will always invest in the best devices and technologies and treatments that my patients are going to love, and I wanted photography to be a key part of that. Which is why I invested in…Canfield imaging because I love the fact that they are innovative, I love the fact that they are very, very precise, and I love the fact that they are not just a single image. They can really look across the board at the skin, at what's going on subsurface beneath the skin."
They also discussed the crucial role of Canfield's advanced imaging solutions in all of Dr. Balaratnam's aesthetic consultations in this session of The Beauty Triangle. VISIA allows Dr. Balaratnam to easily capture high quality standardized facial images as well as record and measure her patient's surface and subsurface skin conditions. The ability to capture, track, and measure objective results allows for a better understanding and addressing of their patient concerns. Using the quantitative analysis and visual assessment of VISIA, Dr. Balaratnam and her staff create long-term personalized treatment plans for each patient. With VISIA, she can also make meaningful side by side comparisons for any combination of views, features or time points, including graphs and numerical data.
Francesca Ogiermann-White is the Health & Beauty Editor-at-Large of Tatler, and founder of The Beauty Triangle, with a specialty in aesthetics in cosmetic surgery.
Dr. Sherina Balaratnam is a surgeon, cosmetic doctor, and founder of multi-award winning S-Thetics Clinic in Buckinghamshire, UK. She specializes in skin and medical aesthetic treatments from face and body to hair.