Canfield Scientific featured in Morris County Business Edge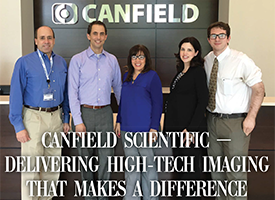 The Morris County Business Edge recently toured the Canfield headquarters in Parsippany, NJ and saw first hand where our imaging technology is devleoped.
Whether fighting acne or removing wrinkles from around the eye, monitoring high-risk cancer patients for early signs of melanoma or seeking a cure for Crohn's disease, high-tech imaging plays a vital role. Imaging is relied upon in clinical trials of emerging drugs, by physicians during patient care and within the consumer products industry.
Canfield Scientific Inc., which in April relocated from Fairfield to Parsippany, is a leader in the imaging sector, serving companies involved in clinical research, including pharmaceutical, medical device and consumer product companies, while also providing imaging solutions to dermatologists, plastic surgeons and medical spa practices.